BUY TICKETS
K. ENGLICHOVÁ, V. VEVERKA & MUCHA QUARTET
"Part of the three-year project entitled 'Music of the V4 Countries"
---
3. 1. 2019 / Thursday / 19.00
NEW TOWN HALL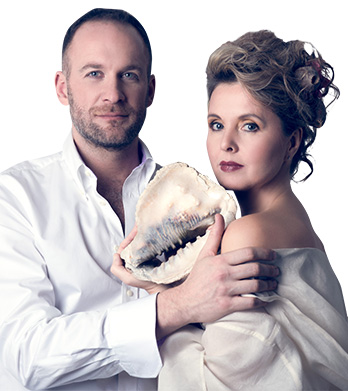 ​
MUCHA QUARTET (Slovakia):
JURAJ TOMKA – I. Violin
JOZEF OSTROLUCKÝ – II. Violin
VERONIKA KUBEŠOVÁ – Viola
PAVOL MUCHA – Violoncello
KATEŘINA ENGLICHOVÁ – Harp
VILÉM VEVERKA – Oboe
Program
Béla Bartók - Romanian Folk Dances, Sz. 56 (arranged by Zoltán Székely and Juraj Tomka)
Ján Levoslav Bella - String Quartet No. 2 in E minor "Hungarian"
František Benda - Sonata in F major for oboe and harp
Otomar Kvěch - Transformations after Hrubín. A sextet for oboe, harp and string quartet
The Czecho–Slovak character cannot be denied even in this concert held as part of the "V4 Music" project. Renowned Czech players, harpist Kateřina Englichová and oboist Vilém Veverka, together with the well-known Mucha Kvartet from Slovakia, will offer attractive works by the leading composers of the Visegrad countries, namely B. Bartók, J. L. Bella and F. Benda, and jointly perform a unique sextet for oboe, harp and string quartet – Hrubín's Transformations by Otomar Kvěch.